The Cat's Meow
By Brenda Dwyer ©2014

Once told the tale of a very wise old cat's perspective on life at the Dwyer house ... she has since passed on and "life on the hill" is now shared from her daughter (Cleo's) point of view.
Girl Talk
By I. Bear ©2014
A group of girlfriends sit around chatting about current events, what to wear, new make-up and how to thaw out their hubbies. Entertaining, witty and sometimes surprisingly shocking, girl talk is anything but boring!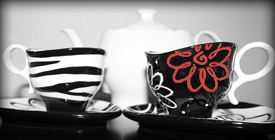 Inside the Tea Room
By: Brenda Dwyer ©2014
Brenda invites you into her personal space as she touches on the things that truly matter to all of us.
The Memory Bank
By Bill Raybuck ©2014
Bill begs us to take pause and meander down the roads of old for therein we will find perspective.
Grandmas
By Brenda Dwyer ©2014
Grandmas love to brag on their babies and their grandbabies (even their great grandbabies). Their stories are always honest, provocative and beautiful. Some grandmas are quite young while others are a bit more seasoned; no matter, you are sure to be delighted with the stories they share and the profound love that leaps from each word. This byline appears in the paper off and on throughout the year; a gem that some say they search for.
A World of Wonders
By Monica Clark ©2014
Let Monica take you along as she travels to places that some of us only dream of visiting.
Mommies Always Sit Down Last
By Jasmin Black ©2014
A young mother of 3, living in South Bend gives us an insider's look into life in a house where 2 teenagers and a toddler co-exist. Sometimes funny, sometimes touching, always riveting; mommies always do sit down last.
As I See It
By Uncle Bill ©2014
Uncle Bill is enlightening, inspiring and delightful. His insight is infectious!
From Our Kitchen
By Brenda Dwyer ©2014
Tried and true recipes that everyone is sure to enjoy! We try to keep them season oriented but every once in a while a recipe comes along that has to be shared regardless of the time of year!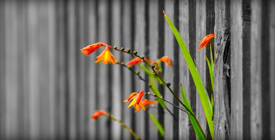 Talk Across the Fence
By Brenda Dwyer ©2014
Life in a small town might surprise you. There are constant changes amidst the charm and it's always interested and sometimes even eyebrow-raising.
The Working Mother
By J. Black ©2014
This column pulls you in and redirects whatever conclusions you had or judgments you may have made about working mothers. This young mother tells us what it's like to leave her baby boy in the hands of caregivers as she strives to bring home the bacon to feed her young family.