A treasure trove of antique and art glass can now be found at Blue Lakeside Treasures new location in Shipshewana, In, at the Morton St. Market, 145 N. Morton St. The store opened on Oct. 14, 2010, with a grand opening clebration to start on Monday Nov 1, 2010.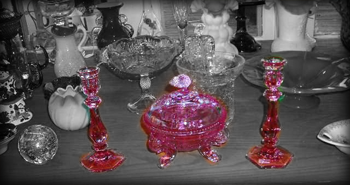 "With aged hardwood floors, window displays and plenty of nooks and crannies for Blue Lakeside Treasure merchandise, you can return to the past and pick up a treasure for your own", said Jim Thurber, owner. He started the business in 2008 with his wife, Judy. The two have treasures from Colorado, Michigan, Indiana, Illinois and the surrounding area. "We really hunt out the special items so you won't find the ordinary in our store." said Judy.
Blue Lakeside, which specializes in glassware, previously was located at the American Countryside Farmers Market in Elkhart, In. The company is one of the few businesses to feature Mosser Glass. Blue Lakeside carries a number of lines by Mosser Glass, which is known for its hand-pressed glassware. "You can also find unique gifts, antiques and a few old-time surprises". said Thurber
Even with the difficult economy, Blue Lakeside has seen its customer base and interest in their merchandise grow. "We have customers that use us exclusively to locate unique glassware." said Thurber You can find Fenton, Gibson, Pilgrim, Carnival, Depression glass etc. among others at Blue Lakeside.
Blue Lakeside Treasure's grand opening celebration will feature a number of specials to kick off the holidays. Specifically, shoppers are encouraged to become Facebook fans of Blue Lakeside Treasures, where special promotions will be featured with discounts for customers. Information about new inventory is also often posted on the page.
Blue Lakeside Treasures is open Monday through Saturday 9am until 5pm. For more information see their Facebook page or contact Jim Thurber at 574-238-6378.